Veteran Indian filmmaker B.R. Chopra, whose Bollywood career spanned five decades, died at home on Wednesday. He was 94.
Ailments relating to old age caused Chopra's death, said Monika Bhattacharya, a spokeswoman for movie studio Yash Raj Films, run by his younger brother.
Chopra was known for tackling socially relevant themes in Hindi language films.
One of his evergreen classics, 1957's "Naya Daur" ("New Path"), focused on life in a sleepy village five decades ago, resisting replacement of a bullock-cart by a bus as a means of public transport.
The movie was re-released in India last year in color with digital sound.
Chopra's movies were peppered with regular Bollywood plots of mistaken identity or families driven apart by natural disasters.
He also took on issues considered taboo in a conservative India, such as a woman's rape and extramarital affairs in movies such as "Insaf Ka Tarazoo" ("The Scales of Justice") and "Gumrah" ("Misled").
Chopra turned to television in 1988 and directed one of the most popular Indian mythological serials, "Mahabharat," based on a Hindu epic about the battle between good and evil.
He won several awards for his work.
Chopra is survived by a son and a daughter. He was to be cremated Wednesday in Mumbai, India's financial and entertainment capital, Bhattacharya said.
TOP MOVIES of BR Chopra

Naya Daur (1957)
If our late Prime Minister Pandit Jawaharlal Nehru spoke of Fabian socialism in real life, it was B R Chopra who translated it for the silver screen.
When the attraction for Western glamour -- and the Western pattern of development -- became a popular trend, Chopra made Naya Daur, a black and white film that pitted Man against Machine.
The film was perfectly timed; India was a newly free country that was looking to adopt socialism. Naya Daur showcased the plight of the tonga (horse driven carriage) owners as a bus comes into their village. The bus is both cheaper and faster, so the villagers prefer it to the tongas whose owners lose their livelihood.
Finally, the leader of the tonga owners (Dilip Kumar) throws a challenge to the bus owner (Jeevan); a race is held between the tonga and the bus. The tonga wins, and all's well with the world.
The song Saathi haath badana, which spoke of the need for unity, was apt for a new India looking to make her mark. Unfortunately, when the film was released in its coloured version a year ago, it failed to find resonance with the modern Indian movie audience.
Dharam Putra
If there is one film that is a must watch for every Hindu and Muslim in this country, it is Dharam Putra. In fact, Mahesh Bhatt's much lauded Zakhm, starring Ajay Devgan, came decades later after Chopra's film.
The protagonist Shashi Kapoor belongs to a Hindu family and is very proud of his religion and culture. He detests Muslims and their way of life, but is unaware that he was born to Muslim parents. He goes on to kill them without realising he is their son.
The hard-hitting film is set in the traumatic, violence-ridden Partition period that saw the deaths of thousands of innocent men, women and children. Dharam Putra, which touched an already-throbbing national nerve, was sensitively directed by the film-maker's younger brother, Yash Chopra.
Waqt
Another eternal B R Chopra classic, the film-maker used Waqt to underline the belief that man may struggle but he cannot overrule destiny.
Balraj Sahni plays a successful businessman who has everything in life. He does not believe in destiny; in fact, he believes every man creates his own destiny. Until the day an earthquake strikes and he loses everything.
His three children separate from him as does his wife.
The film was a multistarrer; its cast included actors like Sunil Dutt, Raj Kumar, Shashi Kapoor, Sharmila Tagore and Sadhana. Waqt was also directed by Yash Chopra.

Nikaah
B R Chopra got Pakistani actress Salma Agha to play the title role.
The role was initially meant to go to Zeenat Aman, who had earlier acted in another path-breaking Chopra film, Insaaf Ka Tarazu. Later, however, Chopra felt Zeenat's Western looks and image would not work for a Muslim social drama.
Salma Agha, whom he had met in London through Raj Kapoor, entered the picture. Cast opposite her were Deepak Parishar and Raj Babbar.
Nikaah's unforgettable music, composed by Ravi and Ghulam Ali, took the film to a different level altogether. The song Dil ke arman aansoon mein beh gaye and Chupke chupke raat din continue to be immensely popular even today.
The film, which dealt with the subject of marriage and divorce, made Salma Agha an overnight star.
Chopra practised what he preached. Whether it was adultery (Gumraah), the politics of rape (Insaaf Ka Tarazu), Muslim matrimony laws (Nikaah), rehabilitation of prostitutes (Sadhana), widow remarriage (Ek Hi Raasta), Chopra always had a sharp, clear and effective non-formula tale to tell. Baldev Raj Chopra gave great importance to story because he himself had started his career as a writer.
An MA in English literature, he would have continued to work as a film journalist with the Cine Herald had it not been the partition of India. Post Independence, he came to Mumbai and after a stint in production, made his first directorial venture with Afsana (1951). The story was about good and evil featuring twin brothers, both played by Ashok Kumar in a double role. Afsana was a success and Chopra's narrative cohesion was widely admired.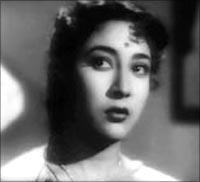 When Chopra entered the film business after coming from Lahore he had no experience of filmmaking and did not know how to contact stars. He wanted to sign Ashok Kumar for Afsana and had to use the good offices of J P Tiwari, Chairman of Bombay Talkies.
"You have no experience in filmmaking or direction and you expect me to hand over my career to you who has no knowledge of direction and at a time when I am on top?" asked Ashok Kumar when he met the aspiring filmmaker. But later the novice filmmaker impressed the film star with his script. Chopra's off beat Meena Kumari-starer Ek Hi Raasta (1956) saw him ascending in his career. Chopra's professional life entered its best phase with the Dilip Kumar-Vyjayantimala starer super hit movie Naya Daur (1957).
The film won tremendous pre-release publicity when its previous actress Madhubala refused to shoot at an outdoor location. This prompted Chopra to take the actress to court. Perhaps inspired by such real life legal battle, the courtroom became a steady fixture in his films the songless Kanoon, Waqt, Dastaan or Insaaf ka Taraazu. In 1959, B R gave younger brother Yash Chopra a chance to direct Dhool Ka Phool Thereafter he entrusted the direction of major productions like Waqt, Aadmi aur Insan to Yash.
When Yash left B R to start his own production company in the 70s, B R was shattered. "I was on sleeping pills for six month's because it destroyed my dreams of a joint family," he was quoted as saying. Besides, professional life was also not good with his films Dastaan (1972), Karm (1977) flopping. But his comedy flick Pati Patni Aur Woh (1978) put smile back on Chopra's face. Later films like Awaam and Burning Train failed at the box office but divine intervention came in the form of record breaking success of Mahabharat on small screen.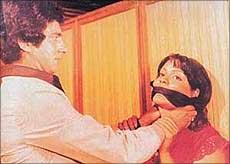 With the success of Insaaf ka Taraazu, Nikaah and Tawaif, Chopra reasserted the superiority of a director even in the era of megastars. It is to B R Chopra's credit that he always picked up socially relevant topics and yet catering to popular sentiment so as to convey his message to larger audience effectively. Chopra's magnum opus Naya Daur portrayed the conflict between rural tradition and modern technology. The protogenist of the film defeats a motor vehicle in a race. The film is a quintessentially Nehruvian film that fitted in nicely with the new initiatives in economic planning and rural community development in the first decade of Indian independence.
It hailed by critics as a powerful and vibrantly gripping film. "B R Films' Naya Daur is a distinctly successful combination of pertinent social education and moral and top rate entertainment," critics had said. The black and white film was recently re-released with coloured print but failed to capture the magic of the original. Many of Chopra's films were regarded as bold and ahead of their time. He dared to try a songless film with a hard- hitting suspense courtroom drama, Kanoon; showed a woman resuming her affair with her lover after marriage in Gumrah, a tale of marital infidelity. In Ittefaq (1969) his heroine kills her husband with the help of her lover and in Dhund (1973), a woman married to a paralytic takes on a lover.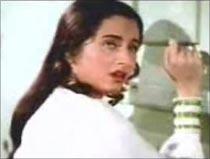 Gumrah needs special mention because it describes the Lakshmanrekha, the sacred threshold of a traditional family inside which lies the safety of a married woman and the consequences of what happens if she crosses the line and goes astray. In the film, the heroine (Mala Sinha) has to marry her sister's husband for sake of the children when the sister dies even though when she is involved with another person. As the woman caught between her husband and lover, otherwise having a tendency to work herself into hysterical, melodramatic histrionics of the highest order, responds with perhaps her career's most effective performance.
However ending of all these films was in keeping with the popular norms of the day. The sanctity and purity of marriage had to be preserved. Duty and sacrifice had to take preference to matters of the heart. So in Gumrah the woman finally chooses to live with her husband, while in Ittefaq the woman kills herself as repentance. Chopra continued to make films in the 1970s and 80s and tasted big success with Insaaf ka Taraazu (1980) and Nikaah (1982).
His son Ravi did try to keep the BR Banner going but the films directed by him barring a stray Aaj ki Awaaz (1984) have not done well at the box-office. However Ravi and the banner made a grand comeback when Baghban (2003), looking at the journey of an elderly couple (Amitabh Bachchan and Hema Malini) who are let down by their children. Today B R Films has diversified into Television after the the success of television serial Mahabarat in the 80s. B R Chopra has for long been the Hindi film industry's senior spokesman and was deservedly awarded the Dadasaheb Phalke Award for his contribution to Indian Cinema in 1999.