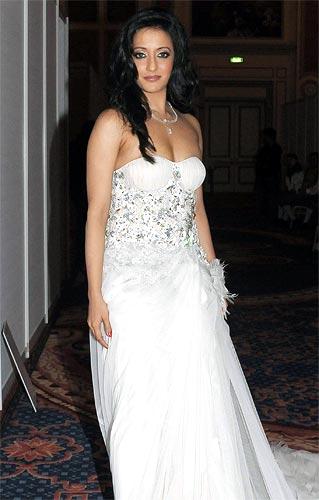 Raima Sen is the daughter of Moon Moon Sen and the grand-daughter of legendary actress Suchitra Sen. Raima Sen's sister, Riya Sen, is also in the Bollywood industry. Their father is Bharat Dev Varma, scion of the erstwhile royal family of Tripura state.
Raima Sen's paternal grandmother Ila Devi, was the princess of Cooch Behar (in Bengal), whose younger sister Gayatri Devi is the Maharani of Jaipur.
Raima Sen made her debut in the film Godmother, which was a critically acclaimed success, but her minor role may have been overlooked in favour of the protagonist, played by Shabana Azmi. Raima Sen then starred in the film Daman playing Raveena Tandon's daughter, where her small performance was appreciated.
Her breakthrough role came when Raima Sen starred in the Rituparno Ghosh's film Chokher Bali. She won much praise for her role as the simple, submissive Ashalata. After a few more average movies Raima Sen had a critically acclaimed hit in 2005 with Parineeta, where she played the playmate of the film's heroine, essayed by the debutante Vidya Balan. Since then Raima Sen has had two more hits with the action thriller Dus and the Bengali film Antar Mahal (where she had a very small role). Most recently,Raima Sen appeared in the film The Bong Connection (co-starring Shayan Munshi).
Raima Sen has signed her first Tamil film and she is expected to do more south Indian films. Raima Sen has yet, however, to play the leading role in any hit movie.
* Teen Patti (2008)
* Sunglass (2007) ... (post-production)
* Mukhbiir (2008)
* C Kkompany (2008)
* Dhariya (2008)...
* Khela (2008)...(Bengali film)
* The Japanese Wife (2008)
* Manorama Six Feet Under (2007)
* The Bong Connection (2007)
* Honeymoon Travels Pvt. Ltd. (2007)
* Anuranan (2007)
* Eklavya: The Royal Guard (2007) ... Princess Nandini
* Antar Mahal (2005) ... Rukmini
* Dus (2005) ... Priya
* Parineeta (2005) ... Koel
* Dairyam (2005) ... Telugu film
* Nishijapon (2005) ... Sunita
* Swapner Din (2004)
* 99.9FM (2004)
* Fun2shh... Dudes in the 10th Century (2003) ... Junali
* Chokher Bali (2003) ... Ashalata
* Nil Nirjane (2003)
* Daman: A Victim of Marital Violence (2001) ... Deepa Saikia
* Godmother (1999) ... Sejal
Hot Pictures of Celina Jaitley